How do I change the breadcrumb title?
When you may have long titles for a post, page or taxonomy, you may prefer to use a shorter title for the Yoast SEO breadcrumbs. Each breadcrumb level can be changed on the corresponding post, page, or taxonomy under the advanced setting tab of the Yoast SEO metabox.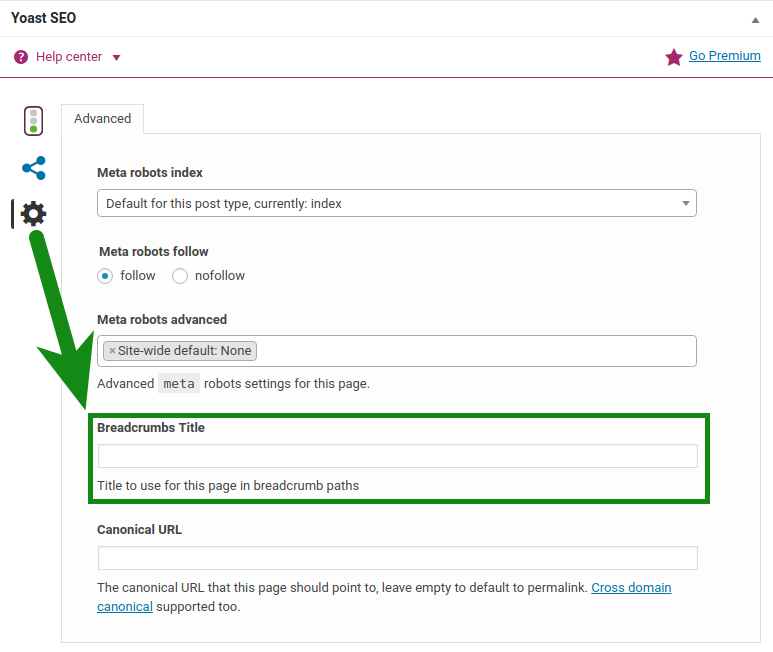 Custom Post Type Archives
Some custom post types have a custom archive page and you can change the breadcrumb title in the Yoast SEO settings under SEO → Titles & Metas → Post Types. Following the steps below, we show you how to change the WooCommerce shop page but the steps apply to all custom post type archive pages.
Log in to your WordPress website. When you're logged in, you will be in your 'Dashboard'. On the left-hand side, you will see a menu. In that menu, click on 'SEO'.
The 'SEO' settings will expand providing you additional options. Click on 'Search Appearance'.

Click on the 'Content Types' tab. 
Scroll almost to the bottom under the subheading 'Content Types'. The shop page is listed as a Products custom post type archive. You can use a variety of variables to further customize the title and description.