Configuration Guide for News SEO
For this configuration guide of News SEO, we'll act as if Yoast is a news agency and thus as if yoast.com is a blog with a lot of high-value news on technology.
Table of Contents
Setting up News SEO
To set up News SEO, go the admin of your website and click SEO -> News SEO.
1

Log in to your WordPress website. When you're logged in, you will be in your 'Dashboard'. On the left-hand side, you will see a menu. In that menu, click on 'SEO'.

2

The 'SEO' settings will expand providing you additional options. Click on 'News SEO'.


3

You'll see the following page. We'll go through this form step-by-step, trying to explain everything.
Google News Publication Name
This is the name that will be used when showing your news-items in Google News. Since our 'news agency' is named Yoast, that's exactly what we fill in here. This must match the name exactly as it appears in news.google.com.
Default Genre
The default genre sets the default for the type of news you'll be offering to Google News. In our example we're writing posts on technology, so we set the genre to Blog. Google explains each genre here to help you select the appropriate one for your site.
Default keywords
Google has revived meta keywords especially for Google News, as you can read here. You can set those keywords per news-post, as we'll explain in the section 'Using News SEO'.
On top of that News SEO also offers you the option to add default keywords. These keywords will be added in the sitemap to the keywords that you set at your post. This means it'll have to be (quite) general keywords, otherwise they may not apply to all your posts.
For example; If we write a post that compares two websites, the keyword 'hardware' would not apply. But if we set it as default keyword, it will be added anyway. But if we only write posts that compares motherboards for computers, the default keyword 'hardware' would be appropriate.
Google also offers a list of suggested keywords to help you do it right.
In our example, we'll only set the suggested keyword 'Computing' as default keyword.
Post Types to include in News Sitemap
News SEO will list all post types you have on your website, so you can pick which ones should be included in the News Sitemap. You should only pick the Post Types that actually contain your news.
In our example, we'll only pick Posts, as all our relevant articles are of the posts. Our pages do not contain news-worthy information, just information about Yoast, like contact information.
Editors' Pick
The Editors' Pick RSS feed features your favorite articles. You can personalize it by adding your own image (and the title of this image).
Of course, we'll be using the News SEO logo!
Now it's time to save your changes. After saving, you'll see all the categories associated with the Post Types you selected. You can now choose which categories you want to EXCLUDE from the News Sitemap.
Using News SEO
Once you set up News SEO, you can start using it for your articles.
After writing your article, scroll down to the Yoast SEO Metabox and click on the plugin icon on the side and then the Google News tab.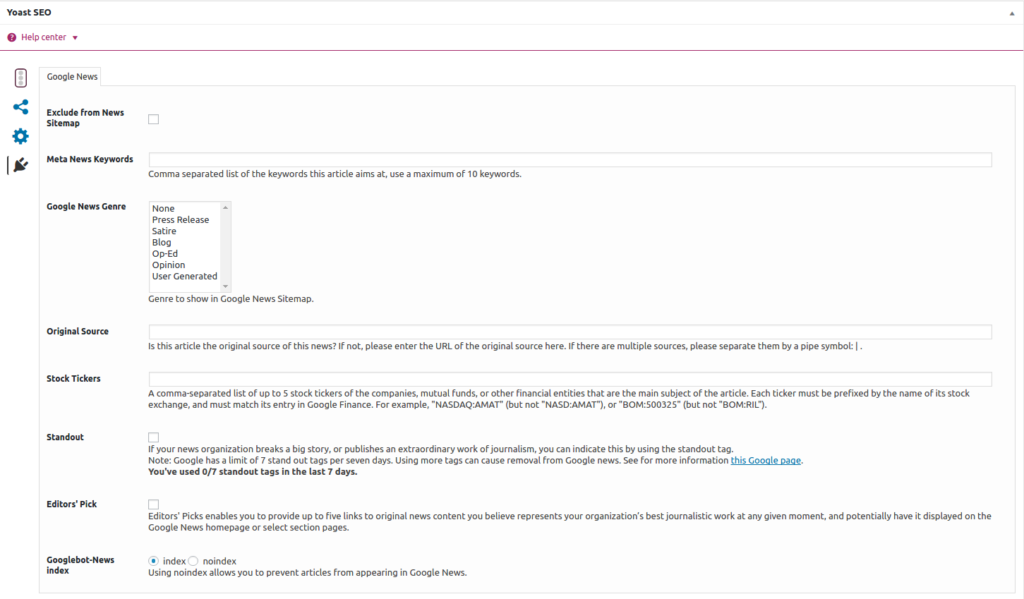 Excluded from News Sitemap
You can choose per post if it should be excluded from the News Sitemap.
Meta News Keywords
As we've explained here, Google's revived Meta keywords especially for Google News.
These keywords should cover the main topics of your article. More keywords isn't always better, relevant keywords are key. Please make sure that you do not exceed 10 keywords! This limit does not include the default keywords you already set, since these are only added to the sitemap.
In our example we're writing a review about a fancy new keyboard. For this post we can use the keywords: 'hardware', 'keyboard' and 'review'. These describe the content of our post very well. Keywords like 'internet', 'wordpress' and 'celebrity' wouldn't be helping at all, since they're unrelated to the content of the article.
Google News advises you to keep their suggested keywords in mind. You can find them here.
Google News Genre
Select the type of news you'll be offering to Google News. In our example we're writing blogposts on technology, so we set the genre to Blog.
Original Source
There may be cases where you're not the original author of a (part of) a post. In those cases you should add the link to the original article in this field.
Our example: We've seen a fantastic review of a headset on another website. And we gained permission from the author of the review to repost it on our website. We did not write this content, so we should add the link to the original review to the Original Source field.
Stock Tickers
Stock tickers are (Google Finance) references to companies that are in a stock market. You should only add a stock ticker if you mention the company in the post and it plays a significant role. Each ticker must be prefixed by the name of its stock exchange, and must match its entry in Google Finance.
For example:
| Company | Stock Ticker |
| --- | --- |
| Apple | NASDAQ:AAPL |
| Microsoft | NASDAQ:MSFT |
| Royal Dutch Shell | AMS:RDSA |
You can add up to 5 stock tickers per post. You can do so by adding a stock ticker in the Stock Tickers box in the Google News Tab.
Standout
You can use the standout tag to highlight reportings and/or breaking stories that you wrote. The counter let's you know how many of the (max) 7 times you've used the standout tag this week. Because, as the documentation by Google says, you can only use it 7 times per week for articles that you are the source of.
We have also written a short article about it. You can read it here.
Editors' Pick
You have that one article you're extra proud of? Or a couple of posts you think everyone should read? Today's top story everyone will be interested in?
Marking your article as Editors' Pick gives it the potential to be displayed on the Google News homepage or on select section pages.
As you can read in Google's documentation, there are some very specific rules to the Editors' Pick RSS feed. So you should really keep the following in mind when selecting your articles;
The article should be news Your picks should reflect your best pieces of journalism and cannot include offers, how-to articles or ads.
The article should have an image Make sure the file format is .png, is the right size in pixels and only a few KB in filesize.
Add an additional item at least every 48 hours Individual items in the feed can be older than 48 hours, as long as at least one item in the feed has been recently updated. Ideally, the feed would be updated once or twice per day.
Keep your headlines short Your headlines can be up to 75 characters.
Your RSS feed needs to have at least 3 articles If you have less than 3 articles, Google News will ignore your Editor's pick RSS feed.
For all details on the Editors' Pick RSS feed, please read the documentation by Google News.
Googlebot-News index
Above you can exclude the article from your news sitemap but this does prevent Google from discovering the article from a normal crawl of your site. If you want Google to show the article in standard search results but not in the news section, please set this to 'noindex'. Learn more about this feature here.