Configuration Guide for News SEO
For this configuration guide of News SEO, we'll act as if Yoast is a news agency and thus as if yoast.com is a blog with a lot of high-value news on technology.
The News SEO plugin for the Yoast SEO plugin helps you do all the things that allow you to optimize your site for Google News. It creates XML News Sitemaps so Google can pick up on new articles as soon as possible, and helps you optimize some of the more advanced XML News sitemap options like stock tickers.
While this plugin won't submit your site to Google News for you, it will help you optimize your site to appear as often and in the best way possible in Google News and in the universal search results.
Related Articles
Table of Contents
To set up News SEO, go the admin of your website and click SEO -> News SEO.
Log in to your WordPress website.

When you're logged in, you will be in your 'Dashboard'.

Click on 'SEO'.

On the left-hand side, you will see a menu. In that menu, click on 'SEO'.

Click on 'News SEO'.

The 'SEO' settings will expand providing you additional options. Click on 'News SEO'.


You'll see the following page.

We'll go through this form step-by-step, trying to explain everything.
Setting up News SEO
Google News Publication Name
This is the name that will be used when showing your news-items in Google News. Since our 'news agency' is named Yoast, that's exactly what we fill in here. This must match the name exactly as it appears in news.google.com.
Default Genre
The default genre sets the default for the type of news you'll be offering to Google News. In our example we're writing posts on technology, so we set the genre to Blog. Google explains each genre here to help you select the appropriate one for your site.
Google no longer uses meta keywords for news articles. Thus, this feature was removed in Yoast SEO: News 7.2
Post Types to include in News Sitemap
News SEO will list all post types you have on your website, so you can pick which ones should be included in the News Sitemap. You should only pick the Post Types that actually contain your news.
In our example below, we'll only pick Posts, as all our relevant articles are of the posts. Our pages do not contain news-worthy information, just information about Yoast, like contact information.
Post Tags and Categories to Exclude
News SEO will list all the post tags and categories you have on your website. When you select a tag or category, any Post types that have that will not appear on the News Sitemap.
Editors' Pick (removed)
Now it's time to save your changes. After saving, you'll see all the categories associated with the Post Types you selected. You can now choose which categories you want to EXCLUDE from the News Sitemap.
Using News SEO
Once you set up News SEO, you can start using it for your articles.
After writing your article, scroll down to the Yoast SEO Metabox and click on the plugin icon on the side and then the Google News tab.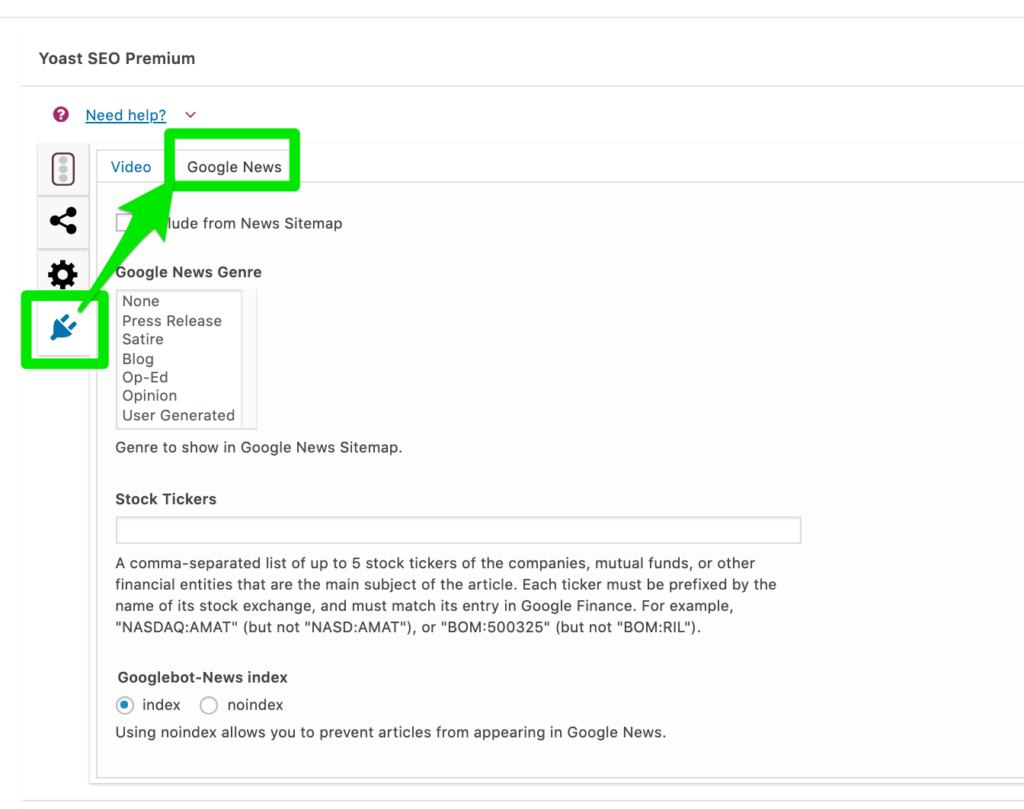 Excluded from News Sitemap
You can choose per post if it should be excluded from the News Sitemap.
Google News Genre
Select the type of news you'll be offering to Google News. In our example we're writing blogposts on technology, so we set the genre to Blog.
Stock Tickers
Stock tickers are (Google Finance) references to companies that are in a stock market. You should only add a stock ticker if you mention the company in the post and it plays a significant role. Each ticker must be prefixed by the name of its stock exchange, and must match its entry in Google Finance.
For example:
| Company | Stock Ticker |
| --- | --- |
| Apple | NASDAQ:AAPL |
| Microsoft | NASDAQ:MSFT |
| Royal Dutch Shell | AMS:RDSA |
You can add up to 5 stock tickers per post. You can do so by adding a stock ticker in the Stock Tickers box in the Google News Tab.
Googlebot-News index
Above you can exclude the article from your news sitemap but this does prevent Google from discovering the article from a normal crawl of your site. If you want Google to show the article in standard search results but not in the news section, please set this to 'noindex'. Learn more about this feature here.
Standout & Editor's Pick (removed)
Original Source (removed)
These features were removed in Yoast SEO: News 7.8 as the new version of Google News no longer supports this
Meta News Keywords (removed)
Google no longer uses meta keywords for news articles. Thus, this feature was removed in Yoast SEO: News 7.2